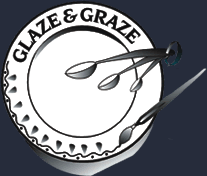 Experience two evenings merging art with food.
The first evening, decorate your own three-piece dinnerware set. The next night, relax and enjoy dinner on your new dishes prepared by one of Galena's best eateries, in a one-of-a-kind historic setting.
Reservations required.
Small groups welcome.
Overnight lodging available next door at Abe's Spring Street Guest House.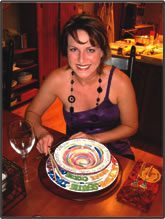 BRONZE SCULPTURE
Sculpted from clay and cast in bronze, these one-of-a-kind sculptures embrace the human form. Highlighting the most graceful and divine figures; movement and balance become effortless.

Bronzes are made using the old traditional method called The Lost Wax Technique whereby a wax replica of the original sculpture is made & then encased in a refractory slurry which hardens into a rigid mould. The mould is then positioned in a kiln to be heated up to a point where the wax burns out. Once the mould is devoid of any traces of wax, the mould is cooled & then molten bronze is poured into the cavity where originally the wax had been. The bronze then solidifies & when cool is removed by destroying the mould which surrounds it. The bronze casting will be subjected to many different processes , such as cutting, welding, grinding, polishing & pagination or the coloring of the bronze.