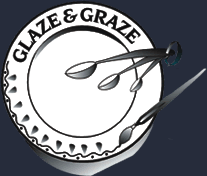 Experience two evenings merging art with food.
The first evening, decorate your own three-piece dinnerware set. The next night, relax and enjoy dinner on your new dishes prepared by one of Galena's best eateries, in a one-of-a-kind historic setting.
Reservations required.
Small groups welcome.
Overnight lodging available next door at Abe's Spring Street Guest House.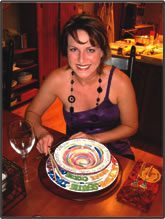 GLAZE & GRAZE
It's a creative experience that combines ceramic artistry with the enjoyment of good food at a harvest table. Your hosts are master potter Charles Fach and his wife, Sandra, Galena residents since 1971. With their expertise and guidance, you'll decorate and glaze your own dinnerware, and then enjoy dinner on your new dishes.

On Friday evening from 5:30 to 9 p.m. in The Artists' Annex, pottery studio, paint colored underglazes on a three-piece bisque dinnerware set: dinner plate, salad/dessert plate and bowl. Bring your own ideas, or find inspiration in the library of art books. Later that night while you're sleeping, the dishes will be fired in a kiln.

On Saturday evening, gather at 7:00 p.m. for dinner in the 1850 barrel vaulted limestone brewing chamber. The ten foot harvest table is set with your new dishes, and the room is a-glow with the flickering light of 36 candles in wrought iron sconces. Dinner is prepared by one of Galena's favorite restaurants: appetizer, salad, bread, entrée and dessert and served by your hosts.

The cost is $120 per person for one to seven people, and $100 per person for eight or more people. It includes three pieces of dinnerware, the glazing class and dinner. The menu is chosen by the first people who make reservations. Lodging is available next door at Abe's Spring Street Guest House for an additional fee, or at several B&Bs within two or three blocks.

"Glaze & Graze" is the first full weekend of most months, or by special arrangement. Seating is limited to 12 people. Reservations are required 7 days in advance: 815.777.0354.

This unique experience isn't available anywhere else, and it's perfect for bachelorette parties, girlfriend getaways, couples' weekends or team-building events.

Private parties welcome.
Gift certificates available.